ASAHI Absorption Tester
Absorption Tester S500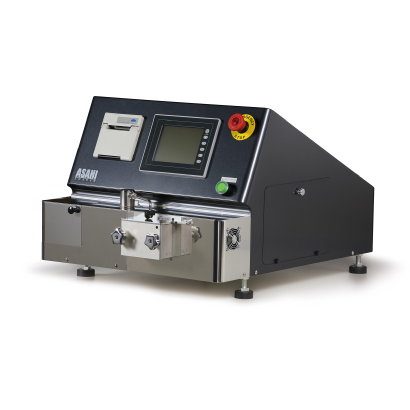 This product is the device which mechanically measures the absorbed dose of powder samples (such as carbon black, pigments and batterymaterials).
In the measurement, a powder sample is put into themixing chamber and a quantified amount of oil is dripped onto the sample, while agitating it with two motor-driven rotary wings, in order to calculate the absorbed dose (ml/100g) by detecting torque for the viscosity change.
* Reffer to JIS K6217-4:2008, ISO4656 and ASTM D2414
The measurement data is printed out, including the absorption dose, torque change curve and temperature in the area of agitation.
Features
Mechanical measurement
Mechanical measurement does not cause data differences depending on different workers. Auxiliary control function for the mixing chamber temperature Auxiliary temperature control of the mixing chamber achieves more stable data measurement.
More compact
A compact product is achieved by integrating the measurement area, printer, pump unit and electrical equipment.
Different types of powder measurement available
Absorbed dose measurement is available for not onlycarbon black, but also low-torque powder (such as pigments, battery materials and alumina).
Various liquids also usable
In addition to DBP (dibutyl phthalate) for carbon black, various liquids can be also used, such as DOP and linseed oil.
Built-in printer convenient for data management
Measurement data can be printed out from the built-in printer, enabling real-time check for the measurement results. The external communication function also enables the data transmission to a PC.
Touch panel adopted
The adoption of the touch panel for the display screen enables intuitive operations.
Safety design
In addition to the emergency stop switch on the front of the device, interlock function is available for the mixing chamber and the presence/absence of the lid.
Oil feeding from a remote position also available
Oil feeding from a remote position also available Using "buffer tank unit (optional)" also enables oil feeding from a remote position.