KOIZUMI COMCURVE-10
PENTYPE MAP-METER COMCURVE-10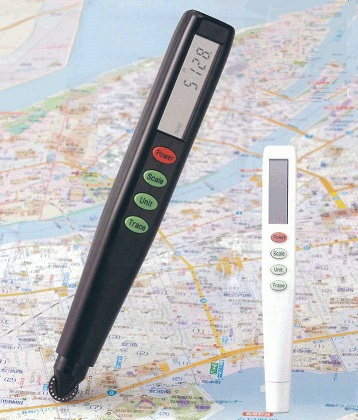 The CV-10 permits lines of any shape or any scale factor to be measured easily with simple operation. All you have to do is put the measuring wheel on the line to be measured and let it trace the line from the starting point to the end of the required length. With the optional receiver unit, you can wireless transfer the measured data to your PC.
| | |
| --- | --- |
| Wheel cap protects sensitive part. | Measuring data can transfer to PC. |
Application
Measurement of line length or distance on maps, charts, road maps, or orienteering maps.
Measurement of required length of lines on wiring diagrams, plumbing drawings or machine design drawings.
Measurement of lines on drawings of ships, vehicles or aircraft.
Measurement of dimensions of curves and paper patterns in dressmaking or handicraft.
Features
Extensive measurability covering line length of any scale factor
Automatic unit conversion processing; and conversion of measured values from one unit of length to another.
A rich assortment of units of length to choose from
Measurement can be made in major units of length of the metric system and the yard, inch system.
Multiple functions in a lightweight and compact design
The CV-10 is designed compact enough to make it easy to carry and is provided with an automatic power-off function to eliminate power wastage.
PC data transfer
Simply by connecting the receiver unit (optional) to a computer, the length of curved lines can transfer to your PC.
Specification
Map-meter body (CV-10)
Body color
Black
Ivory
Display
LCD, 6-digit Figures, 10 Symbols
Applicable unit
mm, cm, m, km, in, ft, yd, mi
Sensor
Photointerrupter
Measuring range
10m (actual measurement)
Resolution
1mm
Accuracy
within +/- 0.3%
Power source
AAA x 2
Continuous operating life : Approx 120hrs.
Operating life depends on your usage.
Operating temperature
0 ~ 40 degrees centigrade
Storage temperature
-20 ~ 60 degrees centigrade
Weight
Approx 65g (including battery)
Dimensions
170 x 22 x 23mm (including wheel cap)
Measuring wheel
Material : PPS plastic Diameter : 12.7mm
Receiver Unit, Optional (CV-10RCV)
| | |
| --- | --- |
| Output | USB ver.2.0 |
| Weight | Approx 35g |
| Size | 41 x 50 x 15 mm |
| Power source | Supply from USB |
| Accessories | USB cable |