KOIZUMI KP-21C
Intelligent Planimeter KP-21C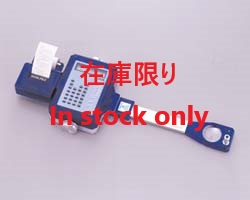 A device shaped for simple measurements.
The KP-21C is a new era of planimeter technology. Revolutionary and Enhanced Functions. PLOT-key tracking device with easy One-Touch action. Advanced features for exceptional cost performance to meet all of your present and future needs.
Features
You can measure 2D area, overall length, segmental length and coordinates.
Once you trace the outline of diagram, you can easily get the essential data of area, length, segmental length and coordinates data simultaneously. As a simple measureing device it's fast and convenient.
Different X and Y scales can be entered.
KP-21C is capable of exchanging X and Y scales so that you can measure area and coordinates of any diagram.
Data output
RS-232C cable(optional provides easy connectivity to any computer.
Auto-Close function
For convenient curved line measurement, our Auto-Close function will measure any closed area. When the target of the trace lens approacjes to within 0.5mm of its origin, KP-21C automatically closes the shape and calculates its area. Keep the PLOT-key pressed for a few seconds to insure that the pilot lamp illuminates your work area. It will switch to curved line mode and then when you press again it returns to straight line mode.

Exclusive Printer
Exclusive removable Printer helps you keep track of your data with easy to use functions. Allows you to print out needed results onto a tharmal paper tape.

Display
16digit 2line dot matrix LCD

PLOT-key
The PLOT-key can use almost any measurements. Simply follow your design with the trace lens and you can measure any area with one hand.

Tracer arm
A high precision special encorder with its ergonomically designed tracing arm, may be "powered on" in any position.
Specifications
Measurement function
Area, line lengths, section lengths, coordinates
Measurements
Metric system : mm,cm,m,km
Imperial system : in,ft,yd,mile
Display
16 digits x 2 lines, dot-matrix type LCD
Interface
Exclusive removable printer or RS232C cable(optional)
Measurement ranges
X-axis: 10 m Y-axis: 380 mm
Minimum measureing length
0.05mm
Accuracy
Within +/- 0.1%
Power supply
Rechargeable NiCd batteryAC power supply(recharger)
up to 15 hours of continuous use
One can use the KP-21C while it's recharging
Size
With printer : 430 x 159 x 46mm
With case : 368 x 204 x 65mm